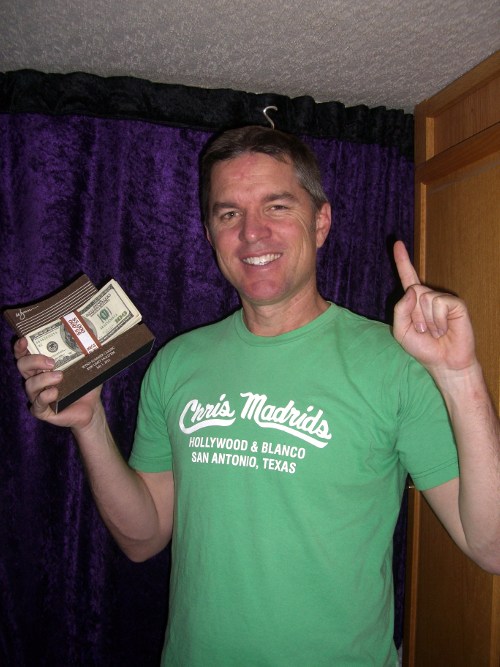 I feel like I am writing this on the surface of the sun!  
One of the beauties of our lifestyle is that we can, and do, choose to live wherever we want, whenever we want.  Sadly for me, Matt wants to live in Las Vegas, NV each June so that he can participate in the WSOP as well as all the other poker tourneys held at this time.  (Awwwww, poor Breezy!)
Wait, I need to back up since our last post was almost 2 months ago (shame on us!).  I guess I've got some catching up to do.  Well, we Tally Ho'd through SD and WY and spent a good chunk of time in CO.  Here is a (somewhat overwhelming) picture collage to save us thousands of words about our time leading up to Vegas.  ;)
 Okay, caught up?  Now back to Poooooooor Breezy!  Okay, okay, it's not so bad here.  It is hot.  And it is like Matt has a Mistress.  And did I mention that it is hot?  Well, it is!!  The average temps in Las Vegas in June start in the mid 90′s and by the end of the month are over 100!  Since July is the hottest month, I guess I should consider myself lucky that the WSOP "Powers that Be" did not decide hold this annual festival for degenerates and unkempt poker peeps (of which my Hubby is not, of course!) in July.  Thank you WSOP Powers that Be!
Matt started playing poker on May 31st, and has not really quit since.  He (was forced and) took off 2 whole days to reunite with his wife, unborn baby and dogs.  We went to the movies, had nice dinners, lounged in bed reading… and talked a lot about poker –it's where his head is.  The great news is that he is really doing GREAT!!  He really loves this month of poker, and HE'S WINNING!!  YAY!!! (If you can get past the really funny expression on this woman's face, look at the bottom of this news shot. Thank you to Frenchy for capturing!)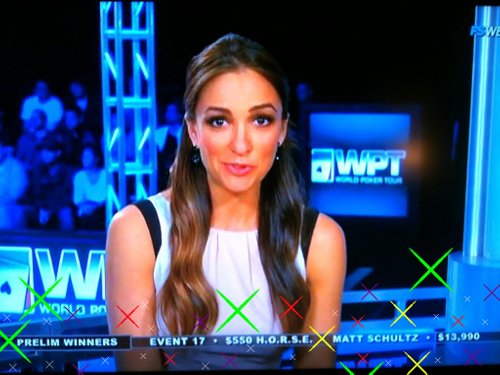 Even with Matt gone most of the time, I'm not alone.  I have my tiny, little, growing, squirmy, bundle of love that is a constant companion.  We call her Bito (pronounced: bee-tow, for Bun In The Oven).  She is quite active and reminds me all day and night that she's with me. I also have some good friends here in Vegas that are sharing their time with me.  (A special thank you to Greg Kelley who shared his vehicle, washer, dryer and TV as well as his time with me.)  And, when my local friends are busy with their normal life stuff, I have the dogs.  I've also read a few really amazing books.  And let's not forget the eternal time killers: Facebook and Pinterest.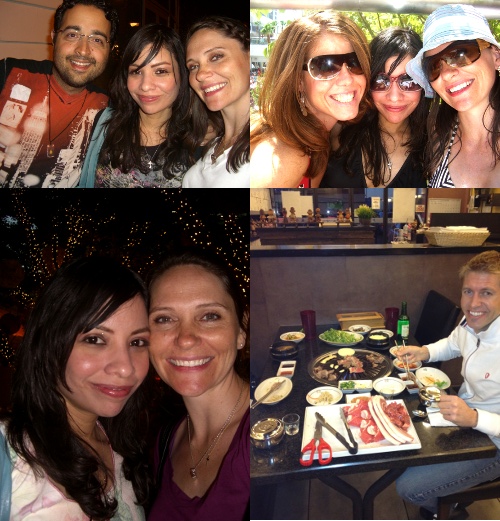 Remembering that this month was tough for me last year, Matt offered up many cool and fun options.  He suggested spa days and going to movies, and even scoped out a place here at the RV park where I could be out of the RV, inside, stay cool, and have Internet.  He really is sweet!  Also remembering that last June was tough for me, I planned a week in San Diego.  I loaded up a rental car with a weeks worth of stuff, 2 dogs and their stuff, a bunch of food for the road (I eat like a famished trucker thanks to Bito) and hit the open road.  About 6 hours later I was pulling into my moms coastal driveway where the temps were in the 60′s and it was overcast!  Jackpot!
What an amazing week I had seeing friends and family!  My mom and I took time each day to make some really cute baby stuff.  We scoured Pinterest and chose really cute (and RV friendly) items to make.  We made 2 receiving blankets, 6 burp clothes, my mom made a quilt and a tiny sweater, and I made some nursing cover-ups.  It was such a blast to cut, sew, laugh, rip out, re-sew, and create with my Mummsy!
I spent most of my lunches and evenings breaking bread and catching up with various friends, tying up a couple loose San Diego ends, getting a massage, reconnecting with Katherine (my "Little" from the Bigs and Littles program), and celebrating my brother Dustin's graduation from Nursing School with him.  Thanks to all the wonderful times I had, and the weather (which I loved and the locals hate), I really didn't want to leave San Diego and head back to Vegas.  But I sure missed my Hubbo and our home awaited us.
I want to say thank you again if you were able to squeeze me into your schedule while I was there (I'm speaking to you: Jena, Heather, Mel, Carla, Jason, Melina, the Spring Family, Katherine, Rossy, Cody, Shana, Dustin, Ralph, DK, Monkey… if I forgot your name please forgive me)! <3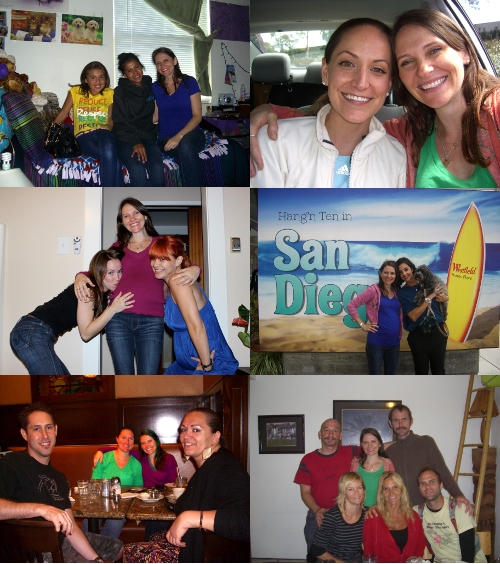 "Thanks" also to my friends who came to Vegas and had a chance to hang!  I had a wonderful dinner with Svenny Sven Jen and friends, saw a great movie (and shhhhhhh'd a drunken old guy, and lived through a "did that say bomb?" warning–no an alarm warning) with Jenny P., and had some really great froyo and even better convo with Howard.
Vegas is also the place that gave us our first view at our little Bito's precious face.  Her perfect little face came into black and white view at our 20 week fetal ultrasound.  This is where we discovered we are having a baby girl!!  She is a perfectly healthy and a very squirmy little girl.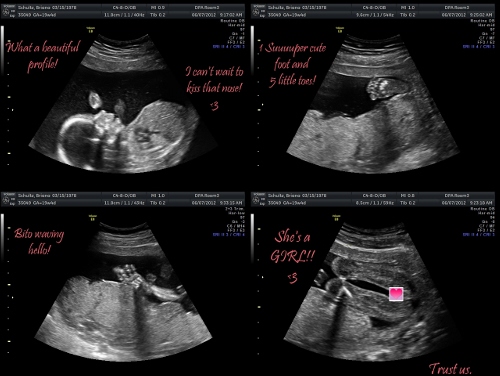 I LOVE, I mean L-O-V-E, Love! That's Love with a capitol "L" being pregnant!!  I am very conscious of what I eat and when and, for the first time in my life, I'm trying to exercise regularly.  I have been doing pre-natal yoga at a really wonderful studio here and I suit up a couple times a week and slide my big 'ol belly into the pool for some laps.  I am continually amazed at the female body and it's ability to  grow to make room for the life growing inside.  Since we don't live near our family and friends, I take a weekly picture and send out a weekly update to anyone who will read it (or pretend to read it).  Here are the pictures up till now.  We are about half way to our estimated due date of October 28th.  But I think she'll join us at the beginning of November.  We'll see!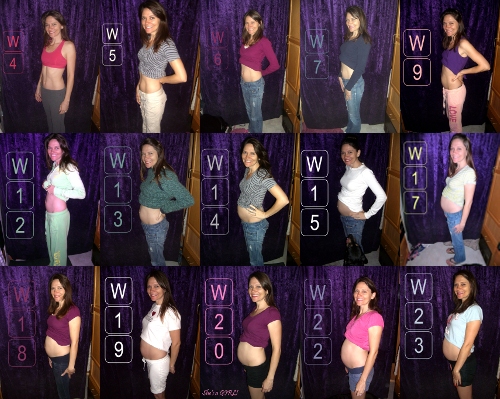 Our time here in Vegas is coming to an end with Matt playing in one more event.  It's a big one so please send him all the positive lucky energy you can!  Then, we "Tally Ho!" off to cooler pastures.  We are thinking of heading toward Lake Tahoe and Yosemite.  We'll see where the wind blows us though.  :)
Till next time…
Tally Ho!
xoxo
Breezy (and Bito)