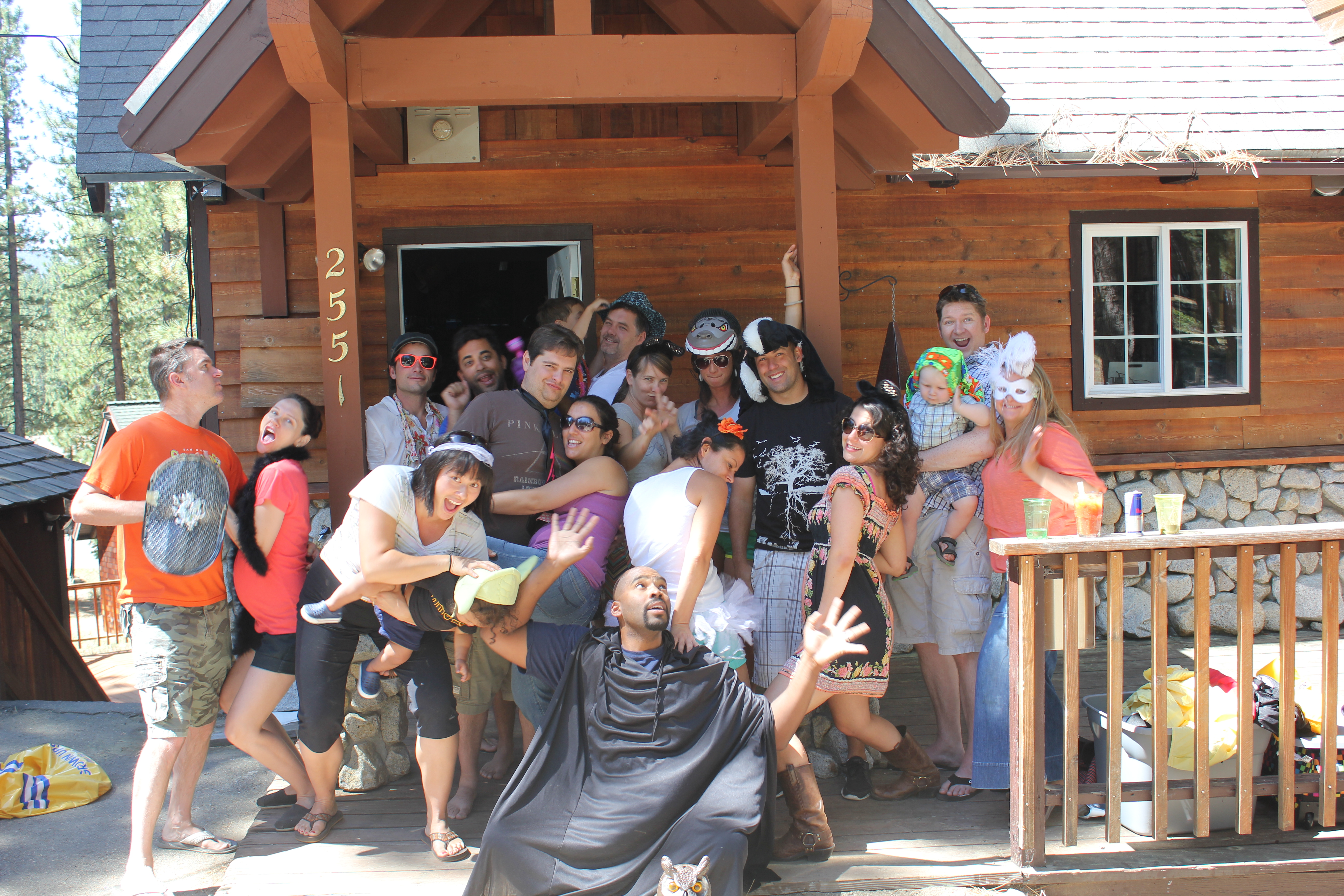 Welp, we did get off the sun!  
Leaving Las Vegas was bitter-sweet.  BUT being back in nature, and in a much cooler climate was not bitter at all!  It was sweet-sweet!  We left Las Vegas on the "morning" of July 7th (we wake late, but it was our morning) and headed toward Mono Lake.  We didn't actually spend any time at this lake, and pulled into the visitors center well after dark so we didn't even get to see the lake until the next morning as we were driving away.  We were headed toward Lake Tahoe!
Pulling into the South Shore of Tahoe we found the Mexican food joint that Matt had been to and loved in the past.  It was behind a strip mall with no signs, but a steady crowd.  The food was good, but not as Matt remembered it.  Alas.
Next stop was a dog park for the dogs.  The Circus Circus RV park has a dog park, but after a month+ of that litter box, we thought for sure that our dogs would be ECSTATIC to get out and stretch their furry legs!  We had visions of the dogs leaping, bounding, playing with the other 4 leggers and basically having the time of their lives.  We were back in nature, and it was cool!!
Let me paint you a picture of the reality: Cali laid down instantly under a tree, Henery sniffed around a bit then also laid down.  What the What!!??!!  No.  Unacceptable!  We found a ball for Hank to chase and sorta forced Cali to make friends by walking near the other owners (who always seem to be in a group –unless you're the "outsider").  Still, our dags were really just not feeling it.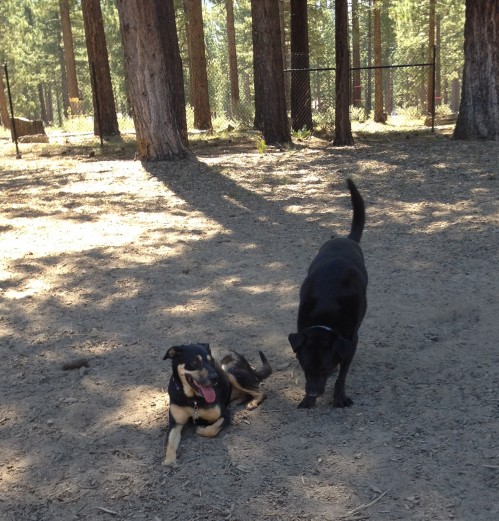 So the dog park was a fail.  BUT while we were there I received this message from our friend Rachel "We will be in Tahoe this weekend!! Will you?"  AWESOME!!  We absolutely could be there for that weekend.  And what a weekend it turned out to be!!  Rachel and Vlad had organized an epic getaway for themselves and 14 of their closest friends.  Everyone pitched in and they rented a 3 story multi bedroom Tahoe "Cabin" complete with pool table, hot tub, grill, and all other features that promise a really great weekend!  While waiting for them to arrive with their posse we took some time to enjoy the local beach that allowed dogs.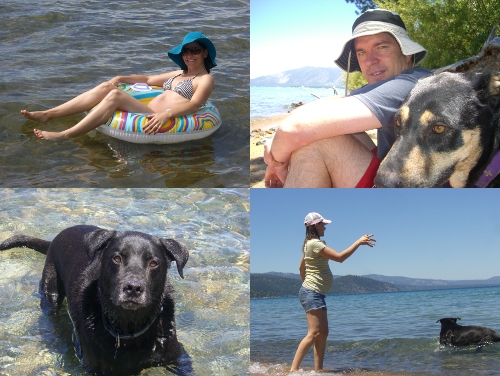 We drove over to the cabin on Thursday and were quickly absorbed into the group.  In a stroke of brilliance they had assigned meals to each person.  So a team of about 4 people would be responsible for one meal and clean up, then they were done for the weekend.  Super smart!  And let me tell you, the food was incredible!  We had amazing breakfasts, delicious and healthy dinners, snacks galore and though we weren't able to enjoy it, there was enough alcohol for a small army!
In addition to all the wonderful food, we had such a really great time getting to know everyone and getting in some quality Vlad & Rachel time (2 people that we adore!).  On Friday we rented a pontoon boat and Captain Matt steered 13 of us around the lake.  We floated around Emerald Bay, then took turns tubing around the lake (Bito and I did not partake in the tubing).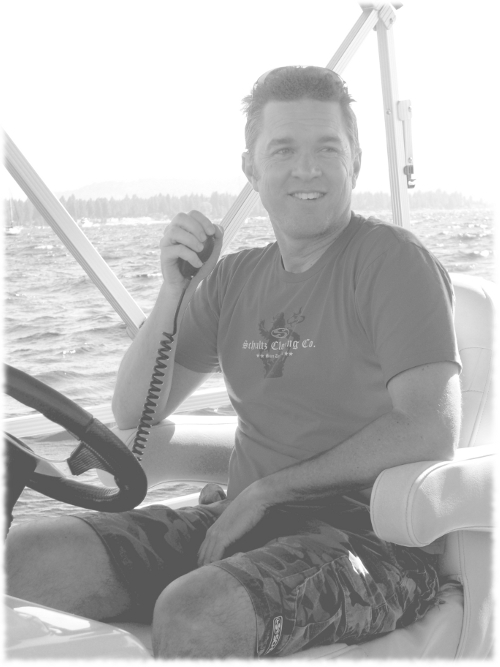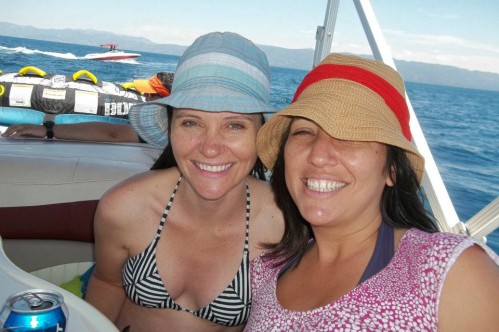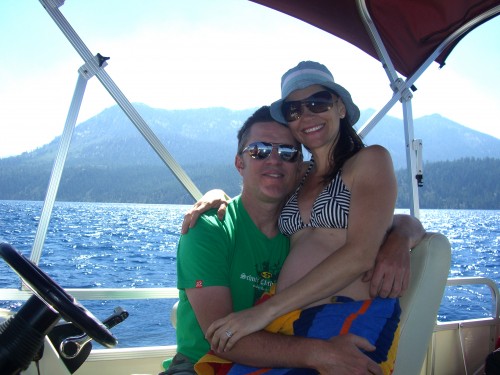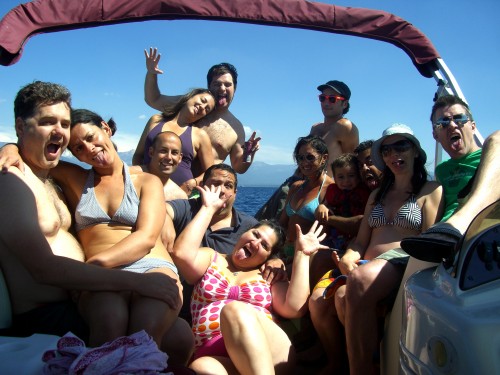 On Saturday we discovered a great little beach on Fallen Leaf Lake that seemed to come right out of Dirty Dancing.  There was the General Store for sandwiches and ice cream, a little paddle boat or canoe rental hut and just enough beach for those that knew where to find it …or got a little lost and ended up there.  ;)
On Saturday night, with the doom of leaving the next day looming, Lisa busted out her Box O' Costumes and props!  We all played dress up and had a blast changing and snapping some pics.  (PS. no fetuses actually consumed any alcohol in the making of these pictures.)
After a really wonderful weekend with some really fun people, it was time for them all to head back to their respective lives.  Us?  We stuck around till that afternoon then began another "Grand Adventure"!  This will be our last grand adventure as just Huno and Buno for quite some time.  So we drove off with no set plans except to really enjoy the next couple months!
Tally Ho & XOXO!
Breezy