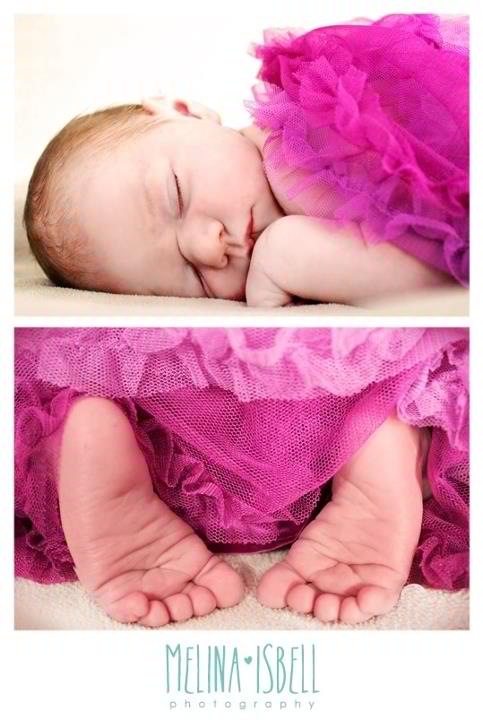 On October 25, 2012, we welcomed our sweet Banana Monkey Face into the world.  Because most of us are Facebook friends, or if you were on my weekly email list then this birth story may be old news.  For those of you who haven't heard, Here is her birth story.
Ladies and Gentlemen, Boys and Girls, Nomads and Circus Folk:
Allow me to introduce Siena Nicole Schultz!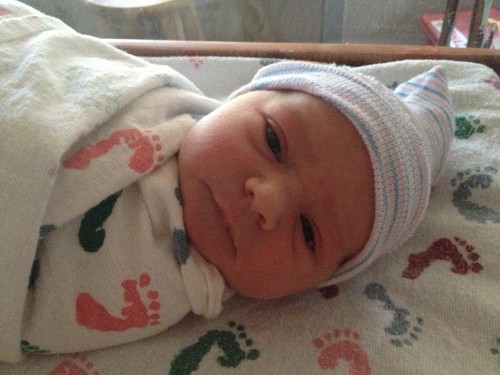 Birthday Picture
On October 23rd while getting a massage I noticed that she was unusually quiet.  I, on the other hand, felt energized and refreshed during and after my massage. Usually after a massage I want to curl up and let the mellow and the oil continue to soak in, but not this time. Feeling energized, I went about my day (nesting) and went to bed with some really mild discomfort that night –my typical "zingers".
Around 3:45AM on the 24th my body woke me up. It took a moment for me to sort out what I was feeling. "Yep, this must be it" I thought!! I grabbed my phone and started timing. I fought my first instinct to wake Matt up and scream that I was in labor. I wanted to take a little time with just Bito (still Bito!) and myself to enjoy the moments that began her journey into air. I had some quiet conversations with her, then about 30 minutes later I woke Matt up and let him know "I'm having surges!!" We timed my contractions ('surge' is the HypnoBirthing term, but for the sake of simplicity I'll use 'contraction') for awhile before Matt called our Super Doula, Ashley. During a contraction sometime around 5am my water broke while I was laying in bed. It did not GUSH, as I was afraid of, but just trickled a bit –not even getting the bed wet. The gush happened, but I had made it to the bathroom.
Note that at this point my contractions were about 3-4 minutes apart and were really regular. I thought to myself that this was going to go so fast! HA!! WRONG!! :)
Ashley quickly came over and the "fun" began. Ash and Matt helped me change positions regularly and had me walking the neighborhood. (Picture us walking the streets directly in front of an elementary school, it's 8AM and all the mommies and daddies are escorting their little ones to school. Then there is me, fully pregnant, hanging on Matt like a rag doll during contractions and at one point even laying on the sidewalk –because it was unbelievably comfortable!)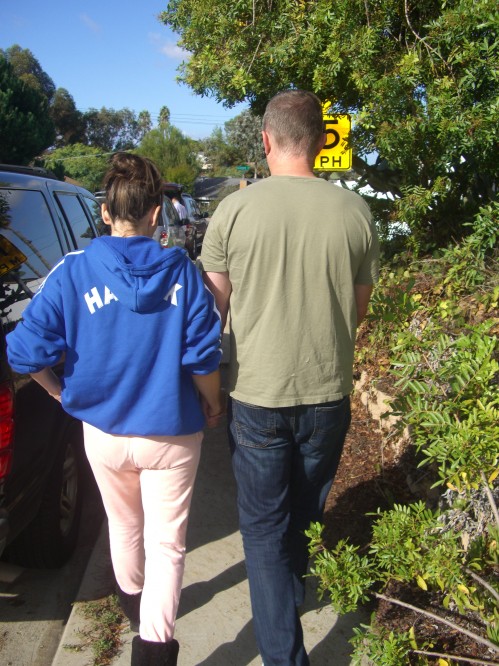 Walking the 'hood while in labor
When we were in Dolly the RV, I alternated between sitting on the birthing ball and laying in bed. Just before noon I decided it was time to go to the Birthing Center so I could labor in their gigantic tub with endless hot water. Aaaah, bliss! My mom met us at the Birthing Center and Lindsey (who had hopped on a plane that morning) arrived shortly after. My Super, Fantastic Hypno-ready, Birthing Team was complete.
I happily climbed into the giant tub (AquaDoula) and REALLY enjoyed the floating warmth of it! After an unknown amount of time in the tub my Nurse suggested getting out. Naively I said "oh, is she coming? Can you see her head?" HA!! I had no idea how ridiculous that must have sounded. But she sweetly said "No, it doesn't work that way. You'll know when I can see her head." (Spoiler alert: She was right!)
After laboring in the tub, walking the halls and alternating positions for contractions for what seemed like days I was devastated to learn that I had not progressed. Even worse, they determined that Bito was Posterior. At this point I had been in labor for about 15 hours and I was EXHAUSTED!! Though I had intended to have a completely natural birth, I wanted to discuss pain management options. So we did. I thought it sounded like a wonderful idea to get an epidural and a C-Section. Matt and Ashley gently reminded me of our birthing plan, and in the end we did some narcotics in the arm to allow me to sleep for a bit. With this option I was able to stay in the Birthing Center. Behind the scenes Matt told them to give me the smallest amount of meds possible even though they said that I wouldn't even sleep for an hour at that level. He then came in and told me that they were giving me enough to let me sleep for many hours. That sneaky man! But I did! I slept for about 7 blissful and totally needed hours. Well, it wasn't exactly sleep since I was awake for every contraction, and was being monitored every 30 minutes (temp and baby heartbeat). The GREAT news is that while I was sleeping Matt had some conversations with Bito that apparently got through. I woke up at one point and announced that she had moved and was in the correct position. And by the time I woke up for good, I was fully dilated and shewas in the correct position. Then the pushing began. I pushed for about 2.5 hours before our Midwife (A man named Al, who also lives in his RV –how perfect is that!!) threatened to make me go "downstairs" (downstairs is regular Labor and Delivery). At that point I wasn't going anywhere! I had been in that room for what felt like an eternity and was not leaving come hell or high water! Not to mention that my contractions were pretty intense and I was not about to move from that bed. So with a drive like I have never felt, I began to push. I pushed through the contractions (which were only every 5-6 minutes at that point) and then decided that I would push between contractions to try to speed things up. Finally just before 4:30AM I could feel our baby's head. She was coming!! Matt left my side for the first time in hours to go "catch" our baby girl. Siena Nicole was born into her Daddy's arms at 4:32AM and was immediately put on my chest. She began to scream and cry instantly and we began successfully breastfeeding as soon as she started rooting around. Breastfeeding went very smoothly and came pretty naturally.
Words cannot describe the joy that I felt holding her for the first time. But if you are a parent, then you know the rush of feelings. I had loved her since before she was conceived. I loved her even more when she blinked into existence in February of this year. But to feel her on my chest and to hold her in my arms on October 25th… there are no words for the love that I felt at that moment. And though my entire heart permanently swelled with that love, some how it continues to grow daily. <3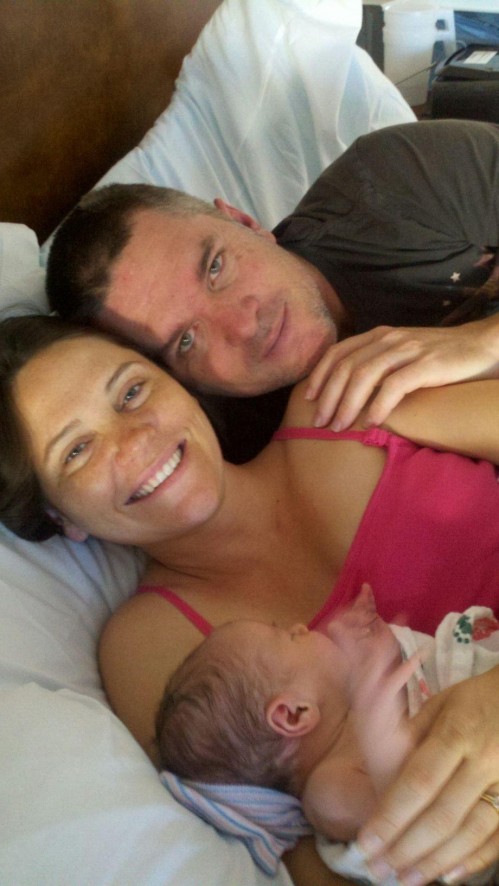 First Family Photo
Back to the hospital. All tests were done and everything was going smoothly. We spent 2 days recovering and bonding together as a family. We enjoyed having guests come meet her on the second day and then on the 27th we were all set to head home. The car was packed, the room emptied, I had signed my discharge papers, and everyone was feeling great! The Pediatrician came back in for one final looksie and noticed that there was a little red around her belly button. She wanted a second opinion. Shortly after, another Dr. came up from NICU and confirmed that it didn't look good. :( They took a skin marker and marked the area that was red and sent us "downstairs" to the NICU. I thought that we would only be down there for some more info, but as soon as we got down there they spelled out their plan: they wanted to start antibiotics immediately, she would need to stay for 7 days for a course of antibiotics, and they wanted to do a spinal tap to… well, I don't actually know why they wanted to do that. I don't know much beyond the first few moments of being there and meeting our Nurse Boris (who we loved). I was unable to think, understand, or speak. I couldn't understand how things had gone so sideways and I couldn't stop crying. Fortunately, Matt was able to function. He asked all the right questions. He remembered the names of what they wanted to do and what they were giving to her. He insisted on speaking to the Attending Dr., and that conversation allowed them to skip the spinal tap (thank you God!). He basically was a Rockstar and an AMAZING DAD!! <3
So, we sat in NICU for 36 terrible and uncomfortable hours while they administered antibiotics every 12 hours into our tiny baby's tiny little vein. It was heartbreaking!! Because I had been discharged and was no longer a patient, they allowed us to be "Boarders" back upstairs next to the room that we had been in when it was all "sunshine and rainbows". After 36 hours they decided that Siena could move into the room that we were staying in and they would finish the dosing in the room. They had changed her course from 7 days to 48 hours since all blood tests were coming back normal. Yay! So we finished our last 12 hours in a private room with no monitors, no tubes, no other babies, and privacy. Lindsey and my Mom had been coming each day and making sure we slept, ate, hydrated, peed, etc. We were so lucky to have their help. Our last day there I worked with Lactation Support. I'm breastfeeding exclusively, and we had hit a roadblock while we were in NICU so we worked on getting back on track.
Finally on a very foggy October 29th at about 6pm we were all discharged and allowed to head home to start the rest of our lives together. Life is forever altered by Siena, and we could not be happier!
It has now been 3.5 months since our little Monkey was born and every day is different. Every day is magical. Every day is a new journey. Every day is… well, it's just amazing. Siena is simply the best! She is so loved!! Not just by Matt and I, but by our whole "village". She is growing daily and we watch her change with a mixture of bliss and sadness. While each day that passes will never be again and I really want her to stay this tiny little baby, I also can't wait to see who she becomes, watch her crawl, and hear her voice (ask me how I feel about both of those when she's crawling and talking). ;) But we are truly blessed each day to get to watch her grow, learn, and change.
Here are more photos.  Some of her "firsts" are pictured here as well.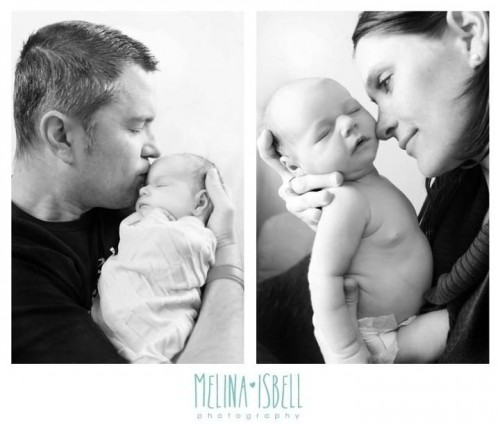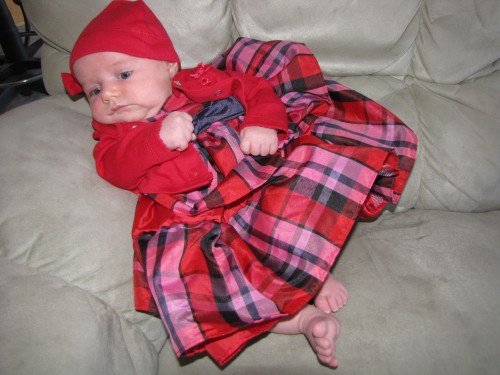 First Tea with the Grandmas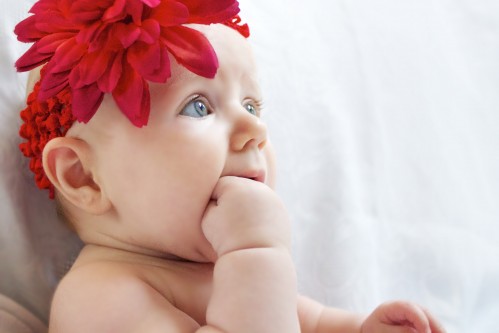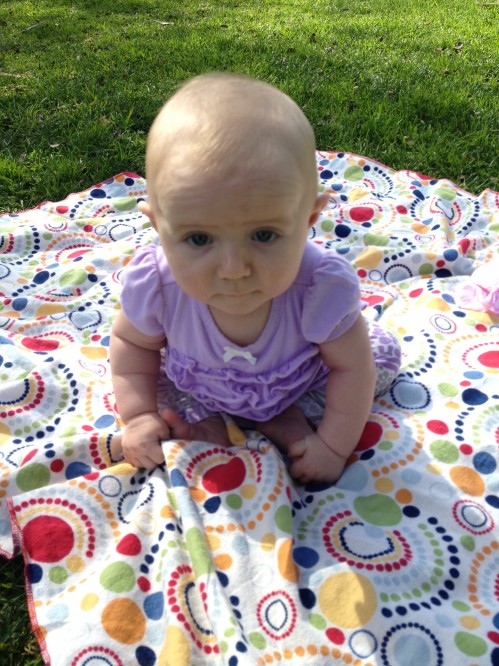 Siena sits for the first time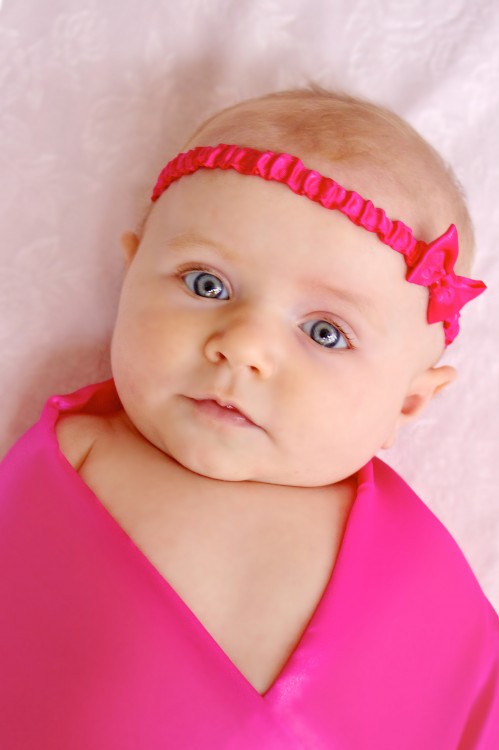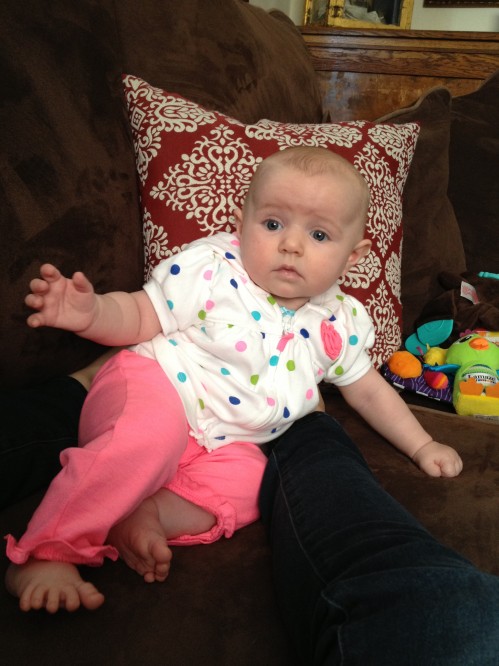 Ah, my Little Love.  I really am the luckiest Mommy on the planet!
XOXO
Breezy & Siena