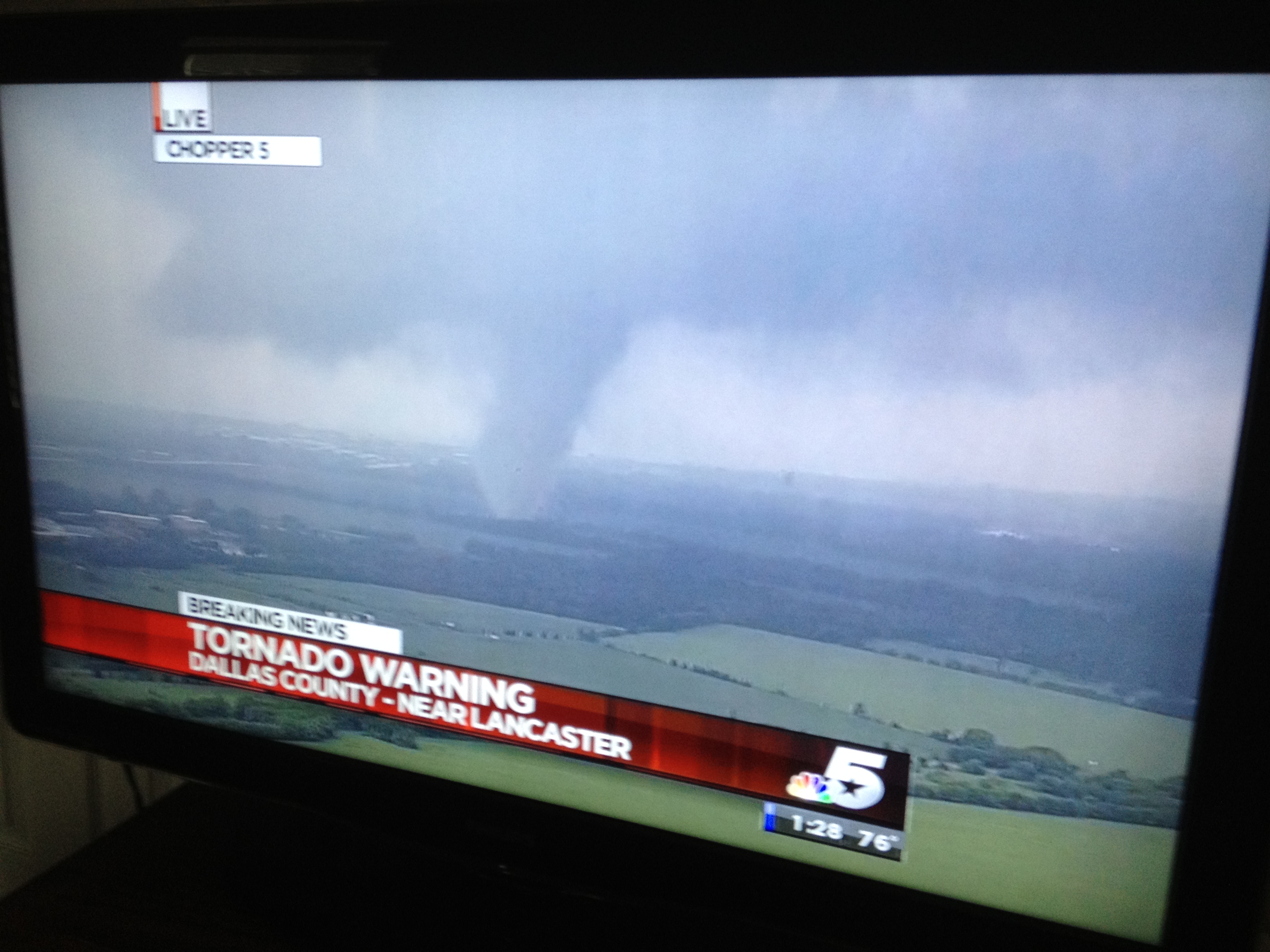 O cursed to thee who speaketh too early.
See cuz last we left off we'd just rolled into sunny and wonderful Dallas/Allen TX and was thanking our lucky stars it wasn't like our only 2 previous visits.
It's almost uncanny. I mean our friends who live there tell us that they virtually NEVER get tornados in Dallas. I'm fully aware that I fixate on the weather like an 18 year old on breasts his first time at the strip club. I know this. Again, it's because of 2 things. 1 – I grew up in Southern California and we have no weather events of any kind to speak of (except the occassional earthquake of course). 2 – we drive our house around now so things like tornados and massive hail actually have some bearing on our lives and property.
That being said we were so happy to drive into a sunny calm Dallas on our arrival. If you've been anywhere in the civilized world I'm sure you saw the national news feeds of what ended up happening there. OMG. We weren't but a few days in when she gave us what we've become accustomed to. Massive storm warnings, baseball sized hail potential and yep, you guessed it, more tornado warnings.
So this makes us 3 for 3. The day we picked up Dolly in Sept. 2010 3 tornados touched down in the city, last year as documented in the blog – Easter tornado warnings, and this year this…(see video below – refresh if it's not there)
…and the aftermath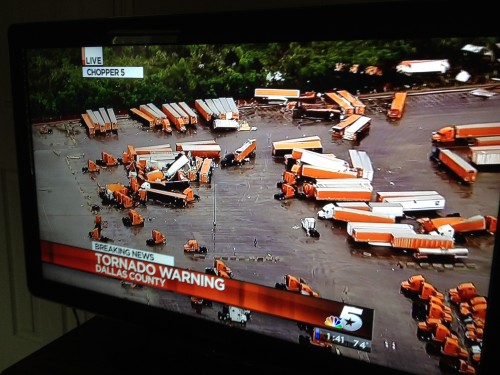 Not only that but a guy I was sitting next to at a poker game in town showed me a picture he'd taken at his home just a few miles down the road from where we were. Are you kidding me? I always thought claims of "baseball sized hail" was just sort of a catch all for biggish hail. Nope.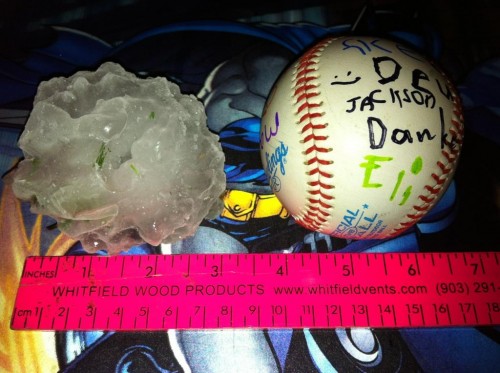 The news feed had us in the direct path of 1 of the 2 major cells all the tornados were spawning from but luckily its course veered just to the east of us and we escaped once again unscathed. Scary though. I apologize for yet another weather laden drama post but it's what's going on so just logging for our journal.
We left Dallas a little less than a week ago and made tracks for St. Louis for a great visit with Bree's HS friend Michelle and her family. I also took the opportunity to hit the World Series of Poker Circuit event going on there as well. Another massive front of severe thunderstorms nailed us there as well. The casino I was playing in took a direct hit of lightning at one point and the power went out for a second or two. Surreal.
We had some AMAZING BBQ (Bandana's – THANKS MICHELLE AND TY) and Pappys Smokehouse. Both a MUST get in my opinion if you find yourself in ol St. Looey at any point in your travels.
We left St. Louis yesterday and headed north to where we are now. The Windy City – Chicago. Already digging it. Sitting in a small coffee shop just north of Downtown along the lake. Had a polish sausage first thing upon getting into town on our friend Andrew's recommendation and he was not wrong.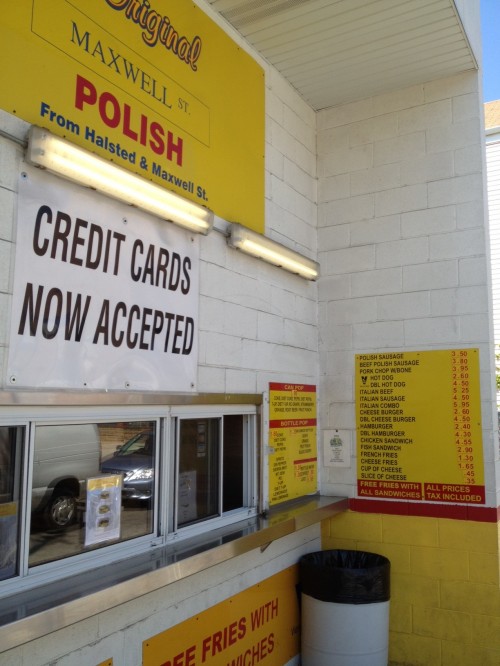 If I lived here I'd give myself 13 months to my first cardiac event. Luckily we do not. Plan to hit our first of our 2 must try Chicago pizzerias tonight for dinner. Giordanos. I really wanted to just get soup and salad but Bree and BITO insisted so what's a guy to do. So until next time.
Tally ho…
Da Bears,
Matt