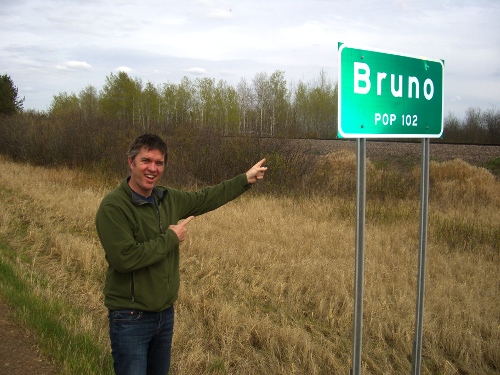 Welcome to Bruno, MN!
Up until now, we have not (that I can remember) been in any place where we upped the general population by 2% upon arrival…until Bruno.
Not ones for planning much, we did plan to be in the Bruno/Sandstone area at exactly this time because that is when Matt's Mom, Donna, was going to be "home" for a visit.  Matt's maternal Grandmother, Esther, lives in Sandstone and Donna's brother and his family live in Bruno. That was to be our home base for the duration of our visit.
After what seemed like a really long drive it was wonderful to arrive at Fantasy Farms, where Matt's Uncle's family lives.  They built a beautiful home on the land that they raise their cattle on.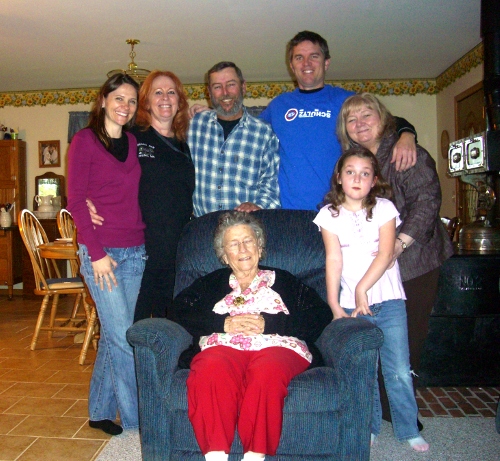 Matt had not seen his uncle since he was a lad and had not met his aunt or his cousins.  He had also not seen his Grandma in a very long time either.  It is always really nice to meet more of Matt's family.  :)
Our week there was spent exploring the area and getting to know (or reunited) with family.  We picked up Grandma every day and explored the area.  We got to see the towns and homes that both Matt's Mom and Dad grew up in as well as the little intersection called Duxbury where the Vink family (Donna's maiden name) has been running a store and restaurant for decades.  Great Uncle Jo still makes his chili and a couple locals still trickle in to eat that chili.  Donna's cousin (Matt's second cousin?) also made the drive to meet up with us at Duxbury.  We had a great meal and visit!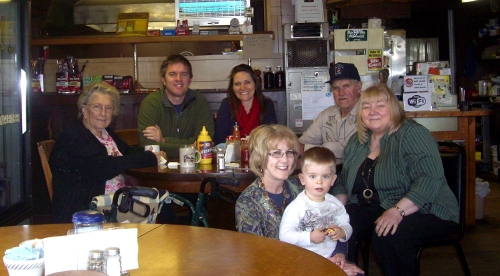 It was interesting to be in an area where Matt is somehow related to almost everyone.  We went by the local cemetery to visit Matt's Grandfather and his paternal Grandmother, and Donna knew almost everyone that had been laid to rest there.
When we weren't out with Grandma, or seeing the local sites, we were settled in the cozy home of Daryl and Sandy Vink.  They have a 7 year old daughter that unfortunately was grounded while we were there.  We got to spend a little time with her though, and she is a cutie!  We also got to experience some of the Ranching lifestyle.  Shortly before we got there a calf had been born and due to all the rain she had gotten caught in the mud and was stuck.  :(  Little known fact: cows recognize their young by smell.  By the time the humans had removed the little calf (aptly named Quicksand) and wiped some mud off her, her Mama no longer recognized her smell.  Super sad.  So, what's a farmer to do?  They set up a little pen for her and fed her calf formula twice a day.  Also, in the roll of surrogate parents  they spend some time grooming her at each feeding (like a Mama would do).  It establishes a bond and lets the little one know she's loved.  Awww!  <3

A Quick Note on Beef: I do love beef!  I do.  But I have to trick myself to love it a little.  For me, beef (and all meat really) comes either from the grocery store or from a restaurant.  Before that, I don't want to know.  It can grow on flowering trees for all I want to imagine.  So to be at someones home who has raised, butchered, frozen, then prepared their own beef is a bit unsettling for me.  Or so I thought…  I have read many posts on Glenn's To Simplify… where he touts the benefits (both taste and health) of local, farm raised beef.  And for the first time I saw what he was talking about.  Matt's Aunt and Uncle have about 13 cows (a female that has birthed a calf) and one bull.  A baby girl calf is called a heifer til they have a baby and all the little baby boys are called steers.  Steers have their weewee balls (technical term) removed so that they don't become bulls.  The steers are what will become the beef –they don't get named at birth.  At Fantasy Farms they don't name the boys and they only keep and butcher one every 2 years for themselves.  The others get sold and again I do not want to know what happens to them.  BUT the one that they do butcher tastes… well, it tastes different.  I know it sounds odd, but it tastes loved.  Sandy (Matt's aunt) makes some AMAZING dinners, so that doesn't hurt, but I really do think that part of the reason that every meal there was so incredible was the beef. End Note on Beef.
When we finally said our goodbyes to Bruno and Sandstone, we headed to Sioux Falls, SD to get our affairs in order.  First stop though was a casino (surprise surprise).  This casino had a couple of things going for it though.  1. It was nice and smoke free.  2. It was very close to the 3 way border of South Dakota, Minnesota and Iowa!  So of course we stopped at the marker for a pic.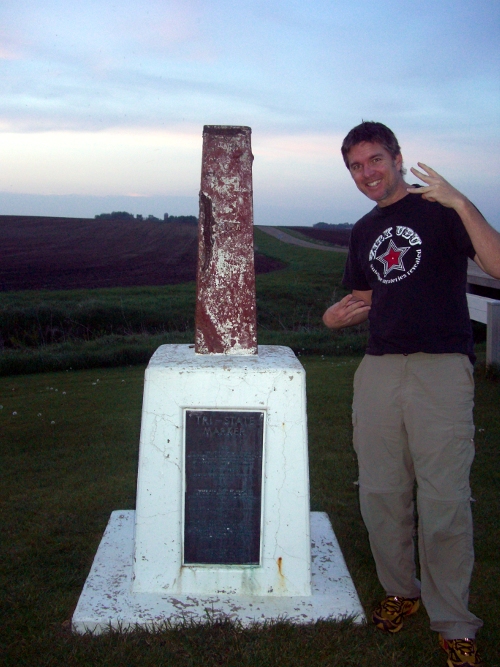 I love these little spaces on Earth!
After a night at the casino we were off to meet Matt's other cousin (Daryl and Sandy's oldest daughter) Lonna.  We met up for mongolian bbq and had a really great and fun visit with her!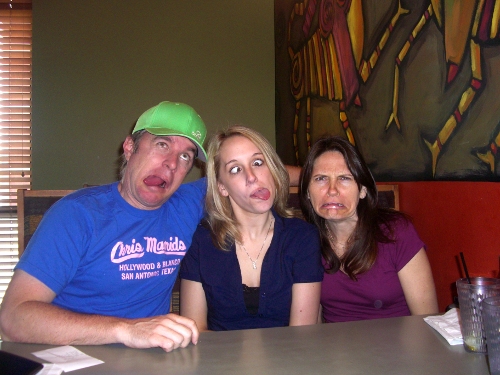 Next stop: The Sioux Falls DMV!
Tally Ho!!
Beefy Breezy!