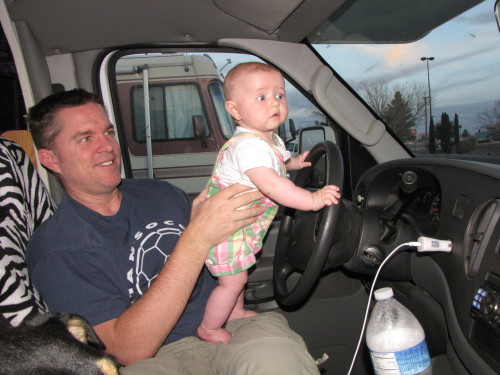 Siena Nicole. Born in San Diego, CA. Spent her first few months in San Diego, and recently entered her fourth new state (TX) as a four month old.
Before entering TX though, we spent a few wonderful days with my Nana, her Great Nana, in Tubac, AZ.  Our time in AZ was nice and peaceful.  We ate Nana's delicious cooking, made the obligatory trip to Wisdom's, watched Phantom of the Opera, got whooped in Scrabble by Matt, and got caught up with all things Nana.  I sure do love spending time with her!  It is amazing to hear how life (and child rearing) have changed.

While watching Nana read to Siena one evening it struck me how very long life is.  My Nana is in her late 70's and has seen such amazing changes in her lifetime!  We were sitting at the table after dinner and she was commenting on how many pictures I take.  I explained my philosophy as a not-so-great-photographer-who-doesn't-know-how-to-use-her-camera: take hundreds of pictures and end up (accidentally) with one or two good ones.  Then I threw out the fact that they really don't take up space.   This baffled her. "Where do they go?"  I tried to explain (with my general knowledge) about digital pics.  You know, how they are stored on the card in the camera 'till I put them on my hard drive or store them in the cloud, 1's and 0's, etc.  Well, she looked like I was telling her that fairies visit me for lunch every day at noon and then we all go bowling with some trolls.  She just could not wrap her head around digital photographs!  I had another instance like this with her during my visit too.  She was Granny-bashing (you know, that bashing or belittling that only Nana's can do) those "eat healthy and exercise fads" that "we" have these days.  I took a stab at explaining WHY "we" need to look out for hormones in our milk etc.  Again with my general "I've seen a Documentary or 2 on the subject" knowledge.  I touched on meat processing and cloning, nothing too nasty.  Just that it's not great and the idea of cloned animal meat uber grosses me out.  She looked me dead in the eye and said "I don't believe any of that."  Ummmm. Oh-kaaaay? This must be how Matt feel sometimes when trying to use logic and fact on me.  ;)
But here's the thing.  I will be her some day.  As long as I'm blessed with a long life I will see what comes after the car, the cell phone, the credit card, I may see what it looks like to live in space (it's a thing, check THIS out!).  And Siena's children will love me for my quirky confusion on why anyone would want to live on Mars.
So after some fantastic AZ days we shoved off toward Texas for the remainder of March and probably a good part of April.  Although life is totally different with Siena Banana Monkey Face, some things never change. The stretch of eternal boredom, in the form of Western TX highway, remains (unfortunately) exactly the same.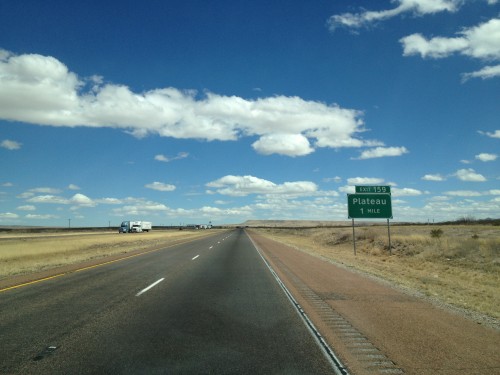 First order of business once in TX was to stop and git us some Rudy's BBQ.  We love us some Southern BBQ, and Rudy's is D.E.L.I.S.H!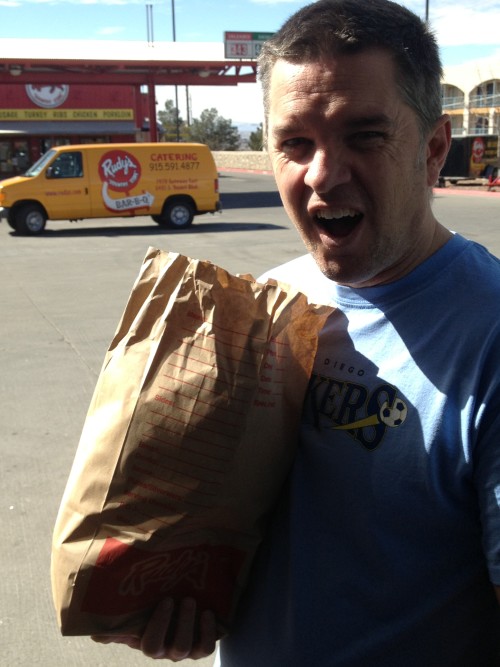 Then straight onto  San Antonio for Matt's beloved burger, (chronicled somewhere in here) and some time with our friend "San Antonio Suzanne". This was the second year we have made it to the Alamo just in time for the recreation of its fall. "REMEMBER THE ALAMO!!"  The canon booms were a bit much though, so we headed directly to the Riverwalk (which was not yet died green for my bday, er I mean St. Party's Day). We walked the river, got some ice cream and waited for our SA bestie, Suzanne, to be ready to met up with us. She and her beau Robert joined us for dinner at a place boasting "Best Burgers in Texas" — it was not.  But Suzanne and Robert were so much fun–as always! What a wonderful life we have created where we have friends that we see once every year and can pick up right where we leave off! Suzanne does local theater and I thought that it would be fun to see something that she's in, but the timing was not right.  Maybe next year.
San Antonio -CHECK!  Next stop: our beloved Austin!!
XOXO
Breezy!