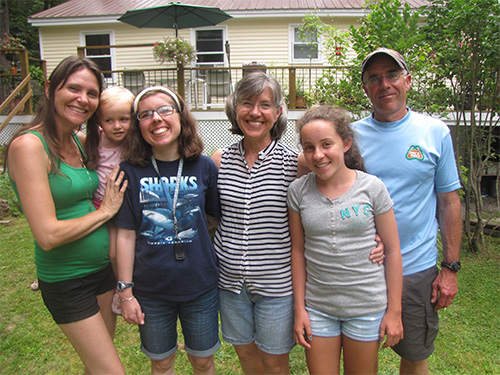 Welcome back!
And welcome to the most North and East point of Operation Tally Ho!! Grab your bowl of CHOWDAH, or your LAHBSTAH ROLL and settle in. GO SAHX!!
Wanna get personal? Here's a little background on me. My parents got divorced when I was about 4. I have some fragmented memories of the end of their marriage and of time as a "whole family", but then it was gone. My mom moved my brothers and I back to Colorado where we all lived and grew and became the spectacular people we are today. (That may be bragging a bit, but my mom and brothers really are spectacular and fascinating peeps. If you get a chance, you should get to know them!) I remember my mom once taking us to the gate at the airport and we flew alone to New England as kiddos. I know that I also came out to New England right after my High School graduation (though, that trip was cut short). Point being, we were not much of a part of my dad's side of the family.
I was beyond excited and eager to get to spend this time up in the North East with my dad's side of the family!  This was an opportunity for me to get to know my aunts, uncles and cousins through adult eyes.  It was also a chance for them to get to meet Siena and to get to know Matt.
We begin in Vermont with a phone call to my Aunt Nancy (my Dad's Sister).  They were our first stop in Maine, but before we got there, they had some suggested detours.
#1 Ben & Jerry's Factory Tour.  Uh, YES PLEASE!!!  We had already driven past there, but back tracked immediately and got there just in time for the very last tour (and sampling session!).  This was Siena's first ice cream –you can't get much better.
#2 Polly's Pancake Parlor.  This place was the pancakity bomb diggity!  I would never ordinarily order it, but if you find yourself in Sugar Hill (how appropriate is that name?), you must go here and order the cornmeal coconut pancake.  I know how it sounds, but trust me, I'm sort of an expert.
Once we got to my Aunt Nancy and Uncle Erik's home we were so spoiled by all the delicious home cooking!!  But, what I loved more than the really great food were the family stories, recipes and history that were shared with me.  Siena was in heaven with all the toys, books, love from my cousins (2 of the 3 are living at home and spent time reading many books to Siena), and the forest and zip line in the back yard!  And Matt spent his time introducing Uncle Erik to disk golf and mastering the Rubik's Cube (under Nancy's tutelage). She also introduced us to our first lobster rolls, and the Maine coast, where we all put our feet in the Atlantic Ocean–Siena for the first time!
And, there was a family reunion!  This was held by my Dad's cousin, and most of my local family went.  It was a perfect place to get to see everyone together and for Siena to meet her Gigi (my Dad's Mom) for the first time!!
 A huge thank you for the wonderful time we had in Maine to my Uncle Erik, Aunt Nancy, Dana, & Kara!!  <3
Tomorrow we will continue exploring the paternal branches of my family tree.  See you there!
Love,
Bree XOXO