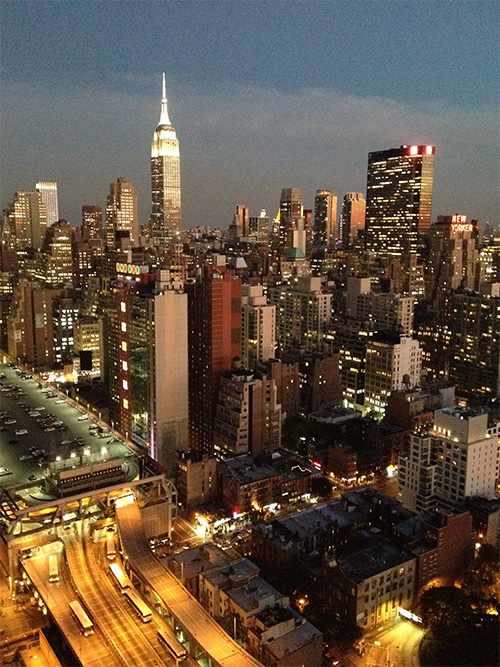 New York!!!  In a word: F'ingAWESOME!
So, Manhattan is a little crowded.  Not much room for an RV park (or even an RV).  BUT, a quick PATH or water taxi ride away is a parking lot/RV park that is absolutely perfect to use as a home base while enjoying the bright lights and big city. We parked.  We took the PATH into the city immediately and we dove right in!  We have a couple friends living in the city and so we reached out and made plans.  Our friend Kent and his lovely girlfriend were our first guides and they created a little list of "Must do/see/eat" for us.  We checked off several of the dining spots with them.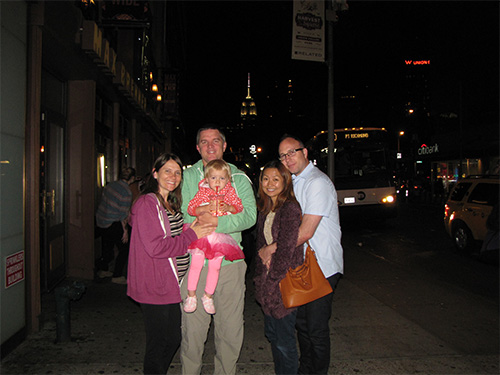 We saw as many of the expected sites as we could walk to and squeeze in.  From our RV spot in New Jersey we could walk over and get pretty close to the back of the Statue of Liberty.  It was a really nice walk and although her rear is less appealing than her front, the view was still pretty great!  We had a little picnic in the grass and meandered through Central Park watching all the horses go by.  In Bryant Park we savored bagels and joined the Bryant Park Jugglers for an afternoon session.  We passed through Time Square in the evening just as it was getting dark so that we could fully experience the lights (very Vegas-y). We walked past 30 Rockefeller Plaza , just so I could sing the into song to 30 Rock.  We also went to Ground Zero and took a moment to honor those that were lost and the heroic people that day.  We skipped going up in the Empire State Building, but got an amazing view of it from Kent's place.  It's the picture at the top of this post.
One of my High School friends is living there now too and she has a daughter that is just about Siena's age.  We got together with her and her family one morning and she showed us around Tribeca.  AND, my cousin Sarah flew in for a friends wedding and we got a couple hours with her to catch up!  How fortunate!
All of that was truly wonderful and very fun, BUT here are my favorite NYC moments:
We had just got into the city and were walking to grab a coffee with Kent.  A woman on her cell phone walked right into him.  She shoved him and started cussing at him to watch where he was going and to get out of her way.  "Yeah, I'm the one on the phone not paying attention!" Kent replied.  It was soooo New York.  I loved it.
On one of our exploring days I wore a long skirt.  This city has many grates in the sidewalk to ventilate the subway.  I walked over one of those and my skirt flew up around my waist.  It was soooo Marilyn Monroe.  I loved it.
We saw the Naked Cowboy!
Move over food trucks!  Food Courts are the latest and most awesome thing!!  Our favorite 2 were Gotham West Market and Hudson Eats.  The food was sooooo delicious.  I loved it.
Also, the moment in the video below that was followed shortly after by sipping delectable hot chocolate at Max Brenner!  Again, sooooo very New York.  I loved it.
Loved it.  Loved it.  Loved every moment of it.
Love,
Big Apple Breezy
PS. On our way to NYC we went through Stamford, CT because a guy at a poker table some years ago told Matt about a pizza place that we just "had to try".  We stopped for the night at Colony Grill and had their Hot Oil Pizza.  They guy was not wrong.  The pizza was incredible!  Hot Oil, who's ever heard of such a thing?  It was legit.