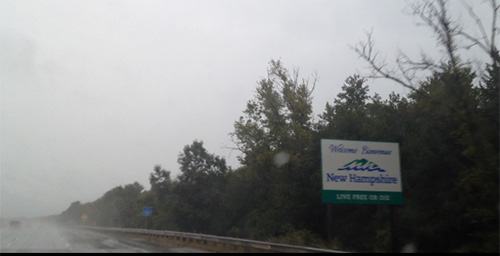 Well, hi there!
Today we are in Concord, NH.  My Uncle Bruce (my dad's brother) and his wife Jamie live here.  They have such a great 1950's home with original character and a lot of art work of naked fat women.  I love it!
My Uncle Bruce sat with me and helped me fill in a line of my Ancestry.  We Gildays (my maiden name) have 2 murderers in our family –who doesn't, right? :/ While one of my murdering family members was serving his life sentence he found he had some time on his hands.  What better to do than to document his family as far back as he could? They also took us on a tour of cemeteries where my family is, or will be, buried.  (This is not for everyone.  I loved it.  Matt maybe could have skipped this part.)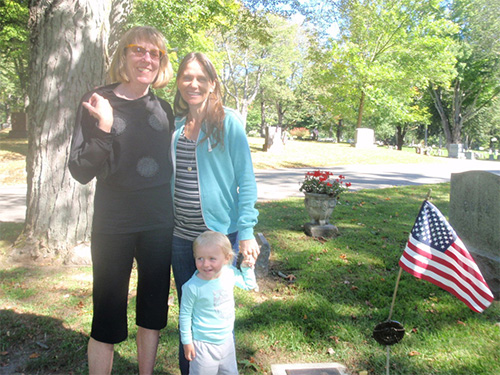 Another thing that I have really enjoyed in our travels has been to visit State Capitals.  Vermont is the smallest State House, and by far our worst tour yet.  I posted these on our Operation Tally Ho Facebook page, but here were some of the non-helpful tidbits from our VT tour: 
-"See this door? It's only painted to look brass on this side. The other side is painted to look mahogany. Vermont frugality."
– "This is a famous battle of Cedar creek. I'm not sure of the details, but I'd imagine…"
– "I'm not really sure about that. You'll want to look into that some more."
– "I should really learn the names of these ceiling tiles."
– "Most people ask where our rotunda is. Your standing under it. We needed the space for offices."

Now, Concord is the capital of New Hampshire, and my Uncle was our tour guide.  He was super knowledgeable and gave us a really great tour!  After the tour we went apple picking!!  This was too fun and very cute with a super curious toddler who loves apples!
This was the end of our time with family on the East Coast.  Don't worry, we aren't done exploring.  But from here on out there will be no family ties.
Next stop?  NEW YORK CITY!!  It was just as fantastic as you'd imagine!  See you tomorrow for that post.
XOXO,
Briana.