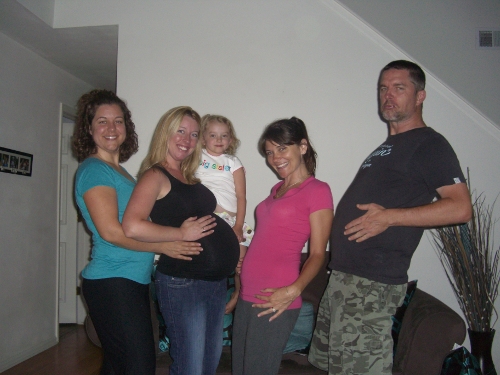 BTW, Lindsey's sis Katie (above) is due any day now.  I'm hoping the little guy makes it out before we have to leave!!
In my first post about our time here in Colorado I brought you all the way to Denver.  This is a continuation of our time spent in and around the Denver area.  :)
For those of you that don't know, my BFF Lindsey lives here in Denver –Arvada to be exact.  So I was SO excited to get here to spend some time with her.  Our last bit of time together was in Vegas and was a little tainted by the extreme heat.  I've really been enjoying some comfortable and relaxing time with Lindsey.  We have been having a great time.

Since Linds was so kind to feed us breakfast (she makes a mean breakfast!) and let us watch Toddlers and Tiaras ("She's a Diva!") at her house every day, Matt went about fixing some of her electrical issues.  First up was the garbage disposal which had stopped turning on.  After a quick trip to Home Depot he had the wires spliced and the machine back on.  Next up was her ceiling fan/light.  That one took a bit longer (and some creative/unsafe ladder placement).  Soon enough, those were back to full functioning also.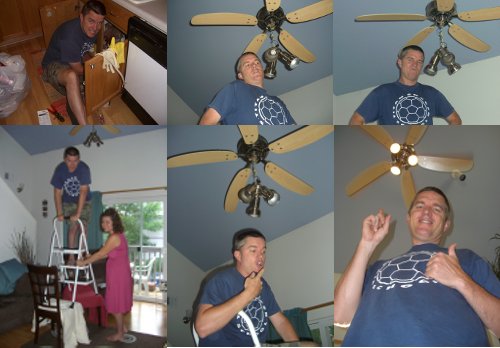 I'd like to state that for the first 6 or so years of our love lives together, I had no idea Matt could do ANYTHING around the house.  Because… he didn't.  I used to say that he was the most "un-handy" man I had ever met.  Well, now I publicly retract that statement.
X's, O's, and high 5's to you, my uuber handy Hubby!
Not only can he fix just about anything, he's also pretty good at breaking.  (Ha!) We went to the Dragon Boat Festival and saw some really amazing break dancers from Dance 2 Live, a local dance crew.  Of course I thought "I can do that!" and so we tried.  (The first picture is the professional in case you couldn't tell.)

A  wonderful coincidence was that my Aunt Nancy & my cousin Kristin were in Denver right about when we got here.  I had not seen either of them in years, so I was happy that we were able to meet up in Downtown Denver at Cooks Fresh Market for lunch.  (Side note: I had one of the best sandwiches of all time –mostly because it had dill havarti cheese.  I love dill.  I love havarti.  BAM!)   It was very nice to catch up a bit and to see them both.  I have never really gotten to spend much time with my Dad's side of the family since they mostly live up in the New England states.  Matt and I will be in New England soon enough though, and hopefully we'll get to have more than a quick lunch with all of my family up there.  :)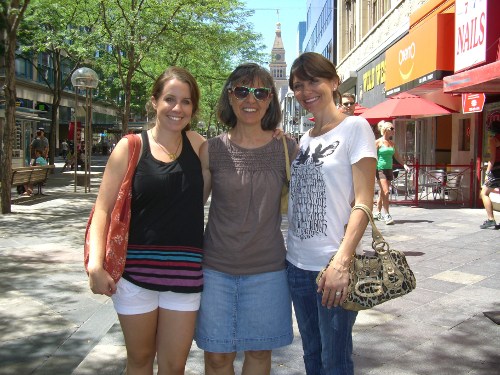 About a week ago, we took a small vacation up to Boulder.  Boulder was phenominal!  We both really loved it.  Fortune smiled on us and presented (thanks to Lindsey) the most gracious and generous host in Boulder.  Christine is a family friend of Lindseys and was more than happy to allow us to park in front of her home and plug in.  As we were settling in and getting to know each other better, she gave us a list of some really fun things to do, see, and eat while we were in her city.  Not only that, but she happened to have 2 bicycles and suggested that as our primary transportation.  Done!
As it turns out, Boulder has a better system of bike paths than most cities have streets!   We biked 14 miles the first day and saw most of Boulder.  Dismounting for a bit, we walked Pearl St. Mall and then continued on our way.  It really was a GREAT day!  The second day we biked over to eat breakfast and then just kept going.  We biked another 14 or 15 miles on day two, including biking around the beautiful Wonderland Lake with the dogs.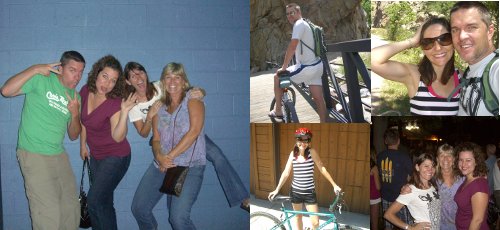 Another highlight of our time in Boulder was supposed to be tubing.  We were lucky to meet up with our friends OurTake again and they joined us for tubing Boulder Creek*.  Unfortunately, tubing was not quite what I had hoped.  To quote my young friend Addison Spring "It was a shame I did not enjoy that great adventure."  (Addie was 4 or 5 when she said this, she was with a group of us adults who were sorta lost on a hike.!)
While our time with Yair & Ayo was fun, the tubing was way too fast and way too rough for my liking.  We walked most of the "creek" while Matt tubed down way ahead of us.  When we met up with Matt again later I asked if he loved tubing down the "creek".  He replied that he really just felt like he had "survived".  :/

This week Matt went back to San Diego and I got to focus all my time with Linds!  We went to the zoo with some really cool kiddo's, hung with some of her wonderful (and really really fun) teacher friends, played some Bunko, watched The Help, organized and readied her classroom, ate and drank some, played with a really cute baby, and laughed a lot.  Here's some pics of our week without Huno: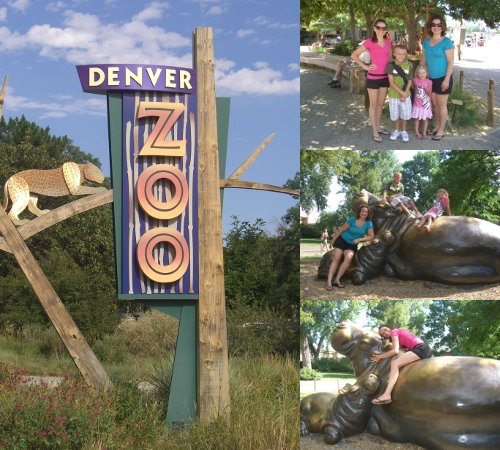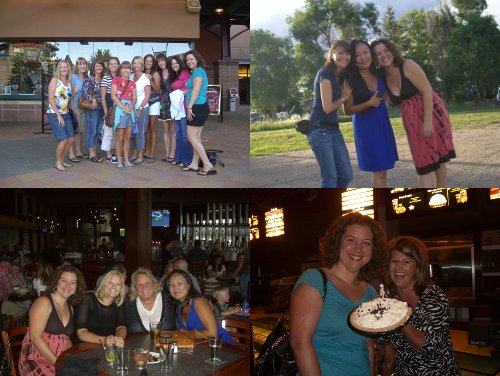 Before I sign off, I want to give a HUGE thank you to GaoLou and the entire Westminster Yang Clan for letting us live in their driveway for weeks!  It was beyond cool and really friendly of them.  They are a wonderful family and we were lucky to have gotten to know them better!  (Did I mention that they have a TRAPEZE SWING about 4 blocks from their house!!!)
X's, O's and high 5's to You, our Readers!
Breezy!
Here's your parting shot. Just because he makes me smile! This is George. :)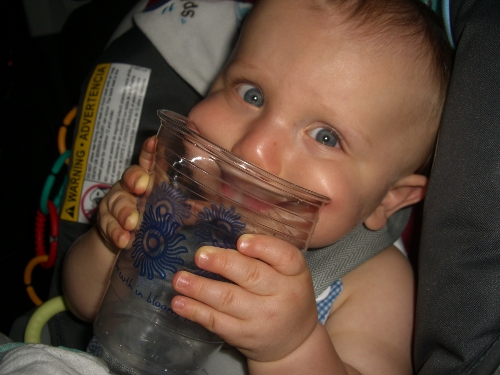 * They have some nerve calling it Boulder Creek.  Creeks do not have RAPIDS like that!  They don't MOVE SO FAST like that!  They don't CHEW YOU UP AND SPIT YOU OUT backwards like that!  THAT was not a "creek".  It was a RIVER.  Boulder River.  That's better.