Eats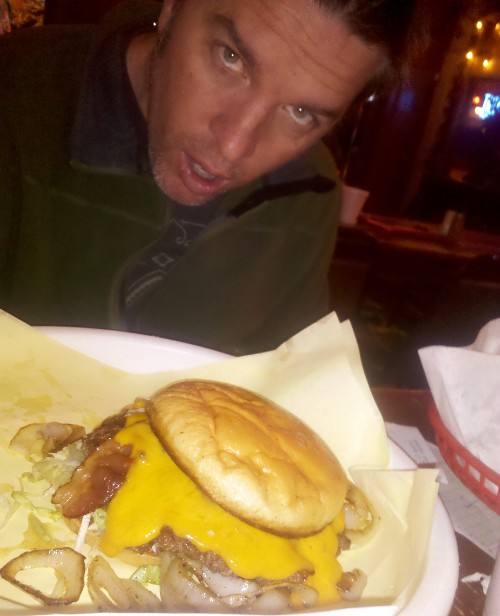 So here's the deal. We LOVE to eat. And I (Matt) specifically tends to be rather particular and extremely specific about what places we will grace with an enthusiastic "omg this place rocks" thumbs up. It's our personal seal of approval and we don't want to say someplace is really good unless it's like REALLY good and we're sure someone will love it. Obviously tastes differ but for the most part great is great. Let's just say we take our recommendations a lot more seriously than some.
So we decided to compile a running list of places we've loved (and would recommend) during our travels AND (importantly) what we ordered. See, We've been to some places that have a great X and a so-so or meh Y so we think this is an important addition to the list. We will only vouch for something we've actually ordered and/or tried.
San Diego, CA (our hometown)
1. Burger Joints (I do LOVE me some burgers)
-Mr. Peabodys (Cheeseburger – add bacon and avo if that's your thing) – turkey tacos here are also a must try.
-Hodads (Cheeseburger/Fries) – must also try a malt and/or shake. They are huge and will ruin your appetite as they come out first so restrain from drinking it all before your burger arrives.
-The Waterfront (Cheeseburger/Fries)
-High Dive ("The Spicy Reed" burger is fab – the sides and garnish are meh)
-Whisknladle (they only have 1 burger, get it WhisknLadel style)    
2. Pizzeria Luigi (all pizzas and calzones)
3. Phil's BBQ (pork ribs, beef ribs, beans, macaroni salad, slaw, french fries.  Bree gets a Chick Tickler.)
4. Blue Water (crab sandwich, calamari sandwich, shrimp tacos) those are what I order but all of the fish here is great. note: I don't recommend the chowder, cioppino, or fries.
I have a million SD places for certain specific dishes or food items but won't list them all. Email me if you are curious about something specific.
Las Vegas, NV
1. Lucilles BBQ (ok it's evidently a chain, which I was not planning on listing and it's technically in Henderson) but I love the joint. Go for the ribs, all 3 styles.
2. Noodle Asia (In Venetian Hotel) – order noodle dish called "Singapore mei fen"
3. Grand Lux Cafe (In Venetian Hotel) – it's owned by Cheesecake Factory and they have TONS of good stuff. Some of my favs are the Grand Lux Burger Melt with Parmesan crusted sourdough bread, the short rib grilled cheese sandwich, and the sloppy joe, oh and the philly cheesesteak rolls (appetizer). note: Drinks are a total rip-off ($4 soda/tea).
4. Joe's (At Caesars Hotel) – go there for the Stone Crab (only go when in they're in season – call ahead – and fried asparagus side dish)
5. Capriottis – ok it's another chain (that has branched out and now has locations in San Diego too) but they have got 2 GREAT sandwiches, the Bobbie and the Capastrami.
Tucson, AZ
1. Zinburger (Zinburger/Fries)
San Antonio, TX
1. Chris Madrid (Cheddar burger, porky burger, whatever their famous burger is called with the refries and chips on it, and fries)
2. Ilsong Garden (kalbi) note: their complementary sides that come with this are awesome.
3. Magnolia Pancake Haus.  Their corned beef hash is what Matt orders and Bree gets a waffle!
Austin, TX
1. Homeslice (pizzas)
2. Salt Lick BBQ (pork ribs are solid and recommend but the brisket is out of this world good. That's all I'd order. Brisket, no sides. The sides are sub-par. Note: did not try the sausage or turkey so can't vouch)
3. Hopdoddy (AWESOME overall burger place. Great ambiance, decor, drink selections, beer bar, and most of all AMAZING burgers.  Bree loves the Turkey Burger here.)
4. Rudy's BBQ & Country Store – The brisket and the turkey are amazing!!! (it's a chain – found one in Colorado Springs, CO)
Dallas, TX
1. Jakes (Burgers) – I think there are multiple locations but we went to the one in Plano. Cheeseburger and cheese fries were both REALLY good. I give it a full 3 thumbs up.
Santa Fe, NM
1. Bobcat Bite – green chili cheeseburger. OMG It's a humongous big patty and I believe they grind the meat onsite. love love loved the bun as well. Bree says one of her all-time fav burgers.
Denver, CO
1. SNOOZE an A.M. Eatery – By far the best breakfast place we've hit since leaving breakfast place mecca (San Diego). Can personally vouch for the corned beef hash, the Sandwich I am, and the pretzel roll reuben (so good). Everyone elses plates looked uber delicious as well. A must-go if in the Denver area. (*UPDATE they added their first non-CO location in…….San Diego (Hillcrest) awesome!)
2. Highland Tap & Burger – Mushroom Burger REALLY good. That specific burger had won the people's choice award at the "Best Burger in Denver" competition the day before we ate there. It didn't disappoint. Tried a few of the other burgers and didn't love them. Go Mushroom.
Lead, SD
1. Lewie's Burgers and Brews – Got the cheeseburger and added grilled onions and jalapenos. Amazing. Found out after we went that they'd been named top 25 burgers in Midwest Magazine and they informed me that Guy Fieri ate there and called it one of his top 5 burgers. I concur.